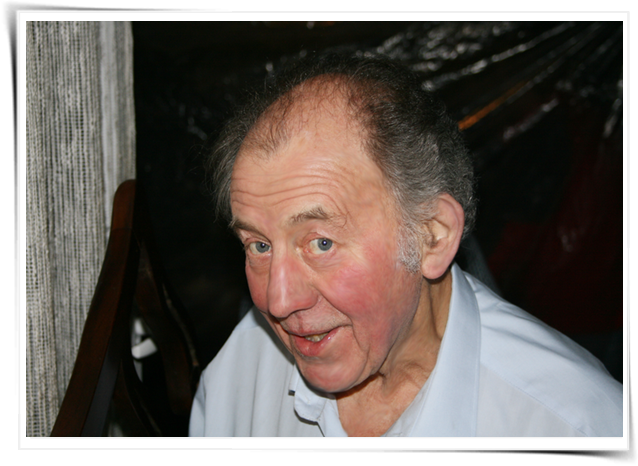 Rhapsody rehearsals resumed in early September 2015, after our Summer break. Since the group's formation, rehearsals were held in the home of our founder member Gerry Carty. Gerry opened up his home to us, and the kettle was always on the boil during breaks. Every Tuesday night he lined up the bottles of water and glasses prior to everyone's arrival. Sadly, during the Summer, Gerry became seriously ill and passed away, peacefully, in the care of the wonderful staff of St.Vincent's Hospital. Rhapsody did not just lose a fine tenor, we lost a friend. Gerry's life revolved around Rhapsody. Since his retirement from RTE, (he was a very fine cameraman), he immersed himself in music, joining the Ballinteer Male Voice Choir. He then set about forming a smaller, close-knit group and cajoled, then begged, and eventually threatened our musical director into taking on the task. Gerry chose the wardrobe the group would go on to wear. The blue shirt was not just any blue shirt, but a very specific blue, no discussion. He kept records of everything, took countless photographs,and made copies for all of us.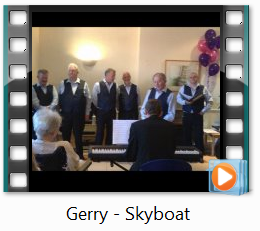 On the day Gerry passed away, the Carty family honoured us by inviting us to sing at his funeral Mass.We felt that it would also be appropriate that the Ballinteer Choir should be represented. Thirty five people turned up for rehearsal, with only three hour's notice. The family honoured us again by laying Gerry to rest in his Rhapsody uniform, with the tie perfectly knotted as he would have demanded.
Gerry's last 'gig' with Rhapsody was in Uncle Tom's Cabin in Dundrum. One of the songs we performed that evening was Queen's  "Bohemian Rhapsody". He had grave reservations that we were taking on more than we could chew, and those reservations grew when he heard we were bringing in a guitarist to play the famous solo! We learned since that he was in Ballinteer Shopping Centre the next morning telling anyone who would listen, about the fantastic performance of the group, and the guitarist, the previous evening. He sent photos to the guitarist!
Gerry Carty will always be part of Rhapsody. Sleep easy Gerry.